Talk to us / get involved
Talk to us – get involved!
---
Your feedback and comments are valuable to us.
Local Offer
Our Local Offer has been reviewed and redeveloped to improve your experience.
We hope that you find the Local Offer easy to use, as well as the information that you need.
Please let us know what you think by completing this short survey.
Your feedback will be available, along with our response.
Previous consultations
Consultation has been ongoing with parents, carers and young people in the development of our SEND Local Offer. Below are examples of the some of the things that we have done in response to your feedback:
You said - you would like bright and friendly pages
What we did - a whole new site was designed and created for the SEND Local Offer, with a brighter and fresher look
You said - you want easy to access sport and leisure information
What we did - created a page specifically for activities, that also links to universal services on our online directory My Life in Bolton
You said - you need easy access to details about special schools
What we did - edited and redesigned existing pages that are now located in the Education and Childcare section of the SEND Local Offer
You said - details about support networks are needed
What we did - included a section with support details for organisations that includes Bolton Parent Carers and the Information Advisory Service
Consultations
Jan - Mar 2022
Rumworth School circulated a survey to all parents/carers in order to gather views with regards to activities and clubs for young people with SEND in the Bolton area. A mixed response showed that some families are aware of local activities and do engage in them, but a significant proportion of respondents were unaware of any activities available to them in the local area. Transport, associated costs of sessions, along with places being inaccessible to wheelchair users, presented as noted barriers.
There was also a concern from parents/carers with regards to providers who host sessions, being fully equipped with the best knowledge to support and understand young people with SEND. Some positive notable mentions went to the great work that AFC Masters, Henshaw's, Breaking Barriers and Bolton Lads and Girls Club already carry out. Some of the respondents also travel out of borough to Salford to access Red Hot Flames Cheerleading Academy's SEND team.
In conclusion, there was a definite interest in the opportunity for more activities to be presented to the local area. Parents recognised that particularly since the pandemic, there is an even greater need to ensure our young people with SEND are offered chances to socialise, make memories and lead an enriched life.
November 2022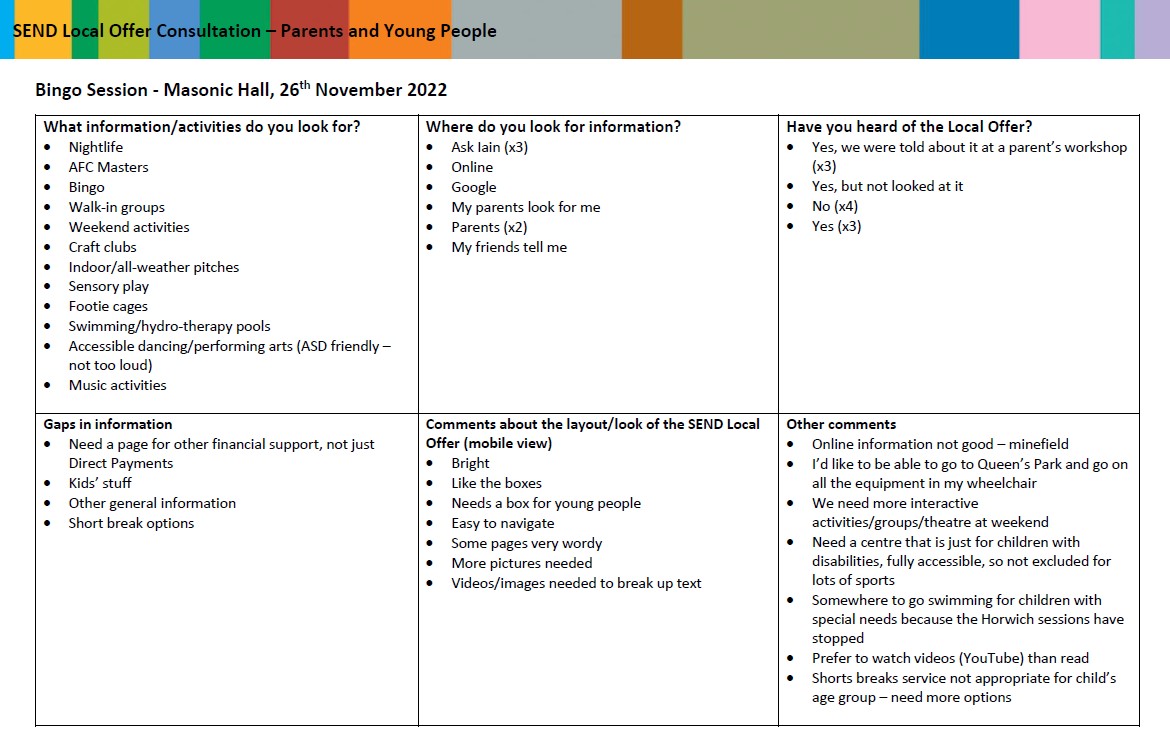 Consultation feedback 2023
You said - there are no details for service around sensory support
What we did - spoke to Bolton's Sensory Support Service, and created an area of the Local Offer that has full details about the service that they offer
You said - more detailed information about how to get into employment
What we did - created additional page detailing routes into work
Comments from visitors to the SEND Local Offer
"The local offer is brilliant - it has so much information on it, it's so much better than it used to be."